Fragile World
DVD Release:
November 20, 2014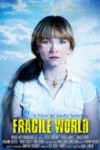 Synopsis
A lonely interior decorator with a history of delusions falls for a dashing stranger who may or may not be real. "Fragile World" ponders the depths of human loss, the fragile framework of the human mind, and the road to emotional and spiritual healing.
Dove Review
This movie does an incredible job of offering hope for those crushed in spirit! It reveals the mental anguish that real life can cause, but it offers promise of a brighter tomorrow for the troubled soul. The cast is superb in this film that centers on the character of Rosalie (Alexa Jansson). She recently dealt with the death of her father, who she practically worshiped. Following a breakdown, she is trying to move on with help from medication, but soon the viewer picks up that not all seen on the screen is really happening. At least some of it is in Rosalie's mind, her way of dealing with the grief. She also deals with loneliness, something many viewers understand.
She painfully endures her mother's dementia and her sister's indifference because she is pregnant and looking forward to her husband's return from Afghanistan. But are these relationships real or imagined? She confides in a woman named Britt (Noelle Perris) who lost her mother and her faith at the same time. When Rosalie begins talking about August (Benjamin Keepers), the wonderful man she has met, Britt wonders if her friend's boyfriend is real or imaginary. In one scene Rosalie suddenly does not see August for a moment and begins panicking, asking people in the park if they have seen him. Later he shows up at her office, explaining that she left right after he went for hot dogs for them. Did she really leave or does August even exist? The story also focuses on a man named Fitz, who believes he is a rock star. Yet he really does showcase a wonderful talent to senior citizens, and we learn the terrible pain he endured as a child. From time to time we also see a pastor ministering to hurting people in the park.
"Fragile World" is for anyone who has suffered the torture of a burden extremely difficult to bear, including the death of a close loved one. The story offers hope as we see Rosalie get professional help and surrender her life to God. We also learn if August is real or not. This remarkable and powerful film has earned five Doves, our best rating and compliment. As one character says, "There's no wound too deep that God can't heal."
Content Description
Drugs:
A woman almost takes several pills to end her life but puts them back; drinking wine and wine is seen in a few scenes.
Other:
Woman suffers mental anguish, as do a few characters; one character appears to be demon oppressed or possessed; woman admits to having considered suicide; man says he only worships his guitar but does in fact turn to God; woman tells man off and to leave her alone and quit stalking her, but we learn he is her doctor; a homeless man sleeps outside.
Info
Company:
Bruised Reed Productions, LLC
Starring:
Alexa Jansson
,
Noelle Perris
,
Benjamin Keepers
,
Marco Aiello
,
Chad Bishop
,
Fawn Sorko-Ram
,
Willow Hale
,
Augusto Valverde
,
Hannah Nichole Cruise
,
Jenn Swirtz
,
Megan Brotherton
,
Susan Kawashima
,
Todd James Jackson
Reviewer:
Edwin L. Carpenter