A Horse Called Bear
DVD Release:
May 26, 2015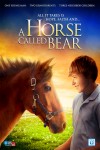 Synopsis
Reveal Film Group presents A Horse Called Bear: After his mother unexpectedly dies, 17-year-old Ethan discovers he is the owner of his mother's horse–a horse he never knew existed. He travels cross country to live with his grandparents and investigate the mystery. His grandmother is supportive but his angry grandfather Otto doesn't seem to want him around. Next door live three children who are taking riding lessons at the same farm where his mother's horse is boarded. Their lives intersect as Ethan deals with grief over his mother's death and the children deal with a neighborhood bully whose father works at the horse farm. The journey for Ethan, Otto, the three children, the bully and her father all revolve around a gentle and faithful horse called Bear who deeply touches all their lives. This is a delightful, redemption-themed family movie that will appeal to children, teens, horse lovers and people of all ages.
Dove Review
"A Horse Called Bear" is a heartwarming story about forgiveness and applying the Golden Rule: "love others like you would have others love you."
Ethan has lost his mother and blames himself because they had an argument that day before the accident. He travels to Michigan from Seattle to his grandparents' house, where he is met with open arms by his grandmother and grumpiness from his grandfather. He also meets Bear, his mother's horse, and the neighbor children who help him. This is a faith-friendly movie that teaches important values. We all need to ask forgiveness from God, and God has a plan for us even though we don't know the direction he'll lead. The young children in this movie apply the Golden Rule, are kind and pray for someone who is mean spirited, knowing that prayer can turn them around. They also learn that God will forgive; all you have to do is ask. Everyone in the family can learn something from this movie. We are proud to award the Dove Seal for all ages to "A Horse Called Bear."
Info
Company:
CMD Distribution
Starring:
Nicholas Ryan Gibbs
,
Wayne E. Brown
,
Austin Farnsworth
,
Katelyn Farnsworth
,
Allison Farnsworth
,
Dawn Storey
,
Kristina Kaylen
,
Ryan-Iver Klann
,
Jared James Withrow
,
Heather Fairbanks
,
Michael J. Brennan
,
Haley Klann
,
Gwen Gornicki
,
Tim Kaiser
,
Joseph Cloutier Jr.