Happy the Littlest Bunny
DVD Release:
February 4, 2004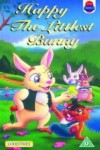 Synopsis
"Happy the Littlest Bunny" features a number of tales involving the title character and his best friend, a chipmunk named Chicky, who together learn a series of life lessons. These stories are aimed at young children.
Dove Review
Happy is tired of being picked on and bullied, and he decides enough is enough.
Chicky, his impish chipmunk friend, and Happy come up with a plan to even the score. He decides no more Mr. Nice Guy. With a strut and a swagger he turns into a mean, tough and hurtful bunny. He changes his name from Happy to Scrappy and, now, no one stands in his way. His only thought is for revenge and he makes plans to play tricky, mean-spirited pranks on his unsuspecting brothers. His plans soon go askew and his brothers face horrible danger because of his actions. Soon Scrappy isn't feeling so tough. He is frightened and worried he may have gone too far. Warmhearted and charming, this lively animated tale addresses the issues of bullying, peer pressure and low self-esteem. Happy sees himself as small and insignificant, forgetting that the size of the bunny on the outside is no match for the size of the one inside! His mother is committed to her small young son and encourages him no matter what he faces. We are pleased to award this entertaining film the Dove Family Approved Seal for all ages.