Cop Dog
DVD Release:
August 3, 2010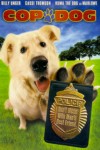 Synopsis
Don't mess with man's best friend! Ever since Robby's father was killed while on police duty, Robby has been angry and alone. His father's old partner, a police dog named Marlowe, suffers the same fate. So when Robby sees Marlowe alone and locked up in a cage, he begs his mom to keep him. Instantly the two are best friends. When Marlowe sees two familiar criminals in the woods, he immediately chases them right into a busy street. By the time Robby and his best friend Deb catch up, it's too late—Marlowe has been hit by a speeding car. Devastated, Robby slips back into his reclusive state. But later that night, Robby hears barking outside. When he goes to investigate, he sees Marlowe. Soon Robby learns Marlowe has come back as a ghost. The cop dog has unfinished business to take care of. His new mission is to help Robby, find the two crooks and solve the mystery behind the death of Robby's father.
Dove Review
This is a fantasy-style film that features the ghost of a dog that helps young Robby solve a crime. Robby's police officer father, Trevor, has been gone almost a year, having died under unusual circumstances. Robby misses him a lot, as does his father's old police dog, Marlowe. Robby and his mother take Marlowe in and Marlowe begins to help Robby search for clues regarding his dad's death. His best friend, Deb, helps him out. However, tragedy strikes and Marlowe dies.
After his death, however, the dog shows up and continues to help Robby. It is apparent to Robby that it is Marlowe's ghost. Eventually a couple of criminals are found to be prime suspects in home robberies and were in the same location the night Robby's dad died. Will they be caught? Will Marlowe be able to find rest until they are? At one point a criminal thinks Marlowe is vicious and in a funny scene makes a "Hound of the Baskervilles" comment.
This unique movie is awarded our Dove Seal for all ages. We want to note that it is a fantasy story, but does show the "spirit" of a woman in one photo and then another photo without her in it, supposedly taken a few seconds later. Although approved for all ages, the very young might have a hard time dealing with the tears and grief of the boy and his mother. We note that ghosts are featured in the storyline. Kids will love the detective work that Robby and Marlowe do.
Content Description
Other:
Dog seen with red eyes, might frighten the very young; comments about ghosts and photo is shown of woman in the picture, presumably a spirit, and then photo without her in it; the ghost of a dog and a man show up; thief steals at store but the items fall out of his shirt and he flees; death and grief; boy has written "loser" on photo of man in a brochure.
Info
Writer:
Charles Steven Palmer Peterson
Reviewer:
Edwin L. Carpenter