The Dark Horse
DVD Release:
March 6, 2012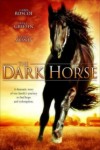 Synopsis
"The Dark Horse" is a dramatic story of struggle and redemption. Hearing the news that her father is suffering with dementia, Dana, a thirtyish Seattle ballet teacher, reluctantly returns to her childhood home on Orcas Island to discover that it is threatened with foreclosure. To save the farm and the family,
she must tame her mother's dangerous Friesian horse and ride him to victory in the year's biggest dressage competition. She must also reconcile her warring brothers, and heal a broken heart.
Dove Review
"The Dark Horse" is a remarkable movie that shows that adapting does not mean giving up. Dana McSpadden (inspiringly played by Carol Roscoe) is a ballet teacher after having been a dancer. Injury prevented her from continuing to dance. She is called home to Orcas Island due to problems including her father suffering from dementia, and she learns the family farm is in danger of being lost. The movie is a real study in character as Dana works through an issue with her mother. Her mother owns a beautiful horse that needs to be re-trained because it was abused and became abusive. She wants Dana to ride it. But Dana was pushed as a child to ride and had a bad fall. She is not ready to get on the horse.
Other complications come when dealing with her father's forgetfulness. He calls his granddaughter, Catrina, "Dana" for example. Dana also attempts to be a peacemaker between her two brothers, Finn and Bran, who have had a quarrel for many years and never forgiven one another. In addition, the family learns that the father has been hiding bills that show the farm is about to go through foreclosure. The family tries everything in their power to save the farm, including re-training the dark horse in hopes of selling it for a good price. Ultimately, they learn they will need to adapt to their life situations.
"The Dark Horse" does a good job showing that adapting to life's problems is essential and that relationships can often be restored. It also demonstrates, through the character of Dana, that past fears can be dealt with. We are pleased to award the movie our Dove Seal for ages twelve plus. It deals with real-life situations that people can relate to.
Content Description
Violence:
Man suffering from dementia strikes another man but does not hurt him; two brothers have a brief fight.
Sex:
Kissing between husband and wife; man kisses his old flame, now his brother's wife, but she stops him and tells him it can never happen again.
Violence:
Man suffering from dementia strikes another man but does not hurt him; two brothers have a brief fight.
Info
Reviewer:
Edwin L. Carpenter