A Magic Christmas
DVD Release:
November 4, 2014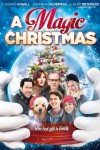 Synopsis
To Jack Carter (C. Thomas Howell), family is everything. A once-aspiring writer, Jack was forced to set aside his dreams of becoming a bestselling novelist in order to take care of the family bakery. His focus on the family business, however, has caused his family to drift further and further apart. With his basketball-obsessed son soon off to college and his teenage daughter unable to put down her smart phone, Jack decides that this Christmas it's time to take the family on a much needed vacation. Along with their dog Buster (voiced by Burt Reynolds), Jack and family head to Jack's old Christmas vacation stomping grounds, Fatherly Pines, for some relaxing, social-media-free family time.
But when his old, uber-competitive friend Robert shows up next-door with his family, Jack's competitive instincts kick in. The calm vacation turns into a wacky battle of the families culminating in the search for a Christmas tree only witnessed in legends and fairy tales. In this search, though, Jack and family realize that winning isn't everything and that the love and happiness of those you care about is what matters most.
Dove Review
Many families find themselves disconnected because of schedules, electronics and interests. Jack Carter's family is no different than most families in today's world. But Jack has a plan to go to the place where his life was less hectic to enjoy time with his lovely wife and their two children, plus their dog Buster. The place is Fatherly Pines, where his father took him as a child.
The snow-covered area and the quaint little cabin are all they need for this wonderful Christmas vacation–or so he thought. But things are not going well: his daughter wants her phone and his son just wants to watch basketball. The reconnection is not going as Jack planned until his childhood friend shows up with everything bigger and better that what Jack has or is. This is a charming holiday movie that presents the Christmas theme that being proud of who you are and happy with what you have is a blessed gift, and the most important thing is family. We are proud to award this movie with the Dove Family Approved Seal for 12+ due to some language issues.
Info
Company:
SP Distribution, LLC