Tappy Toes
DVD Release:
November 1, 2011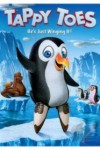 Synopsis
"Tappy Toes" is an animated odyssey about a young penguin named Pingo who, after finding a pair of tap shoes in an old steamer trunk, discovers he can do something no other penguin can do … tap dance! But that's not the only thing that makes Pingo unique. He also happens to be raised by a most unlikely duo: Lou and Buddy, two birds of prey who initially set out to make a meal out of Pingo and end up taking him in as their own. Pingo's toe-tapping skills not only catch the eye of darling young female penguin Bella, but they could be the key to stopping the vile hermit crab Gabby, and his dimwitted sea lion sidekick Thrasher, from destroying a colony of penguins that is home to Pingo's long-lost parents.
This animated adventure follows Pingo the penguin as he discovers a talent for tap dancing. Before long, Pingo's dancing skills bring him closer to Bella, who may be the just the bird he needs to stop the nefarious plans of Gabby the hermit crab.
Dove Review
Viewers will certainly remember a similar film about a dancing penguin. This one has a twist or two, though. For one thing, Pingo, the little penguin in this movie, is raised by two strange birds that wanted him for breakfast when he was still an egg. Now Pingo is growing up and wants to fly, so the duo Lou and Buddy have to tell him the truth: that he is a non-flying bird. There are some other interesting story lines as well, including one about the sea lion and crab out to get him and one about how he saves the female penguin Bella. Not to mention the tap dancing.
This is an animated story like those I watched when I was a kid–the kind where everyone understands that this is make-believe, fantasy, and fun. "Tappy Toes" is awarded the Dove Family Approved Seal for all ages.