Merry In-Laws
DVD Release:
October 15, 2013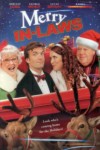 Synopsis
Alex's fiancé Peter is a little nervous when his parents decide to stay for a pre-Christmas visit, but their eccentric, charming ways soon begin to awaken Alex's hidden inner child. With fairy tale snowfalls, Mrs. Claus' magical ways in the kitchen and the surprising discovery of a sick reindeer in the garage, Alex's six-year-old son Max begins to suspect the exciting truth. Caught up in the enchantment surrounding her prospective-in-laws, Alex doesn't realize her cynical father and jealous colleague are plotting against the Claus' in a bid to win Alex back to their skeptical world. With the wedding on the brink of being canceled, it's a battle of heart versus mind, with Christmas itself at stake.
Dove Review
Meeting the future in-laws for the first time is always a little unsettling. When Alex meets Peter's parents, it is an event like nothing she has ever experienced. Alex's father, on the other hand, is skeptical about the couple and their son Peter. But Max, Alex's son, realizes the truth and starts believing in Christmas again.
The jolly couple turn on the charm and offer so much love that no one can ignore them, even the one man who tries to foil everything. Unfortunately, this movie has content that puts it outside the Dove guidelines so it cannot receive Dove's approval for family viewing.
Content Description
Sex:
Unmarried couple lives together; scenes of engaged couple in bed; comment about being pregnant, alone and 18 years of age; older married couple cuddling and assume having sex; wife makes playful jests towards husband.