Set Free
DVD Release:
July 15, 2014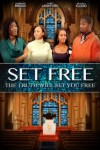 Synopsis
Danielle relocates to Pittsburgh in an attempt to move beyond her grief after the untimely death of her husband–the keeper of the secret that tainted her relationship with her father. Danielle needed her father's forgiveness and her husband wanted her to face the truth.
Danielle's faith is put to the test when her secret is revealed, entangling her son in a web of deception. Refusing to be estranged from her son, Danielle must face the truth and seek forgiveness to restore relationships damaged by her deceit.
Dove Review
"Set Free" is a wonderful movie with an awesome message: even when you're in a mess in life, seek God and He will set you free. After all, He watches over the sparrow and He will watch over you. Written, produced and directed by Patrice Wade Johnson, this movie is based on her novel "Wisdom Seeds."
Even good intentions can turn into a mess, as Danielle Singleton (Dominique Briggs) learns. She is known as Dani and she is raising her son, a high school senior named Josh (Corey Lankford) on her own because her husband Jason recently died. She moves them from Ohio to Pennsylvania, which Josh is not crazy about until he meets a beautiful young woman named Sydney (Jordan G. Welch). They fall for each other and soon Josh is planning his future, which includes attending college in Charlotte, North Carolina. Just when everything is coming together, a secret in Dani's past, or a "skeleton kept in the closet," comes out and involves several people. More than ever, Dani will need to keep her faith in God and trust in His divine providence to survive and move forward. The secret causes pain to those closest to Dani.
The movie does a terrific job showing realistic people dealing with realistic insecurities, doubts and fears. Yet "Set Free" offers the viewer hope. We are pleased to award it our Faith Friendly Seal for ages 12+. Make sure to see "Set Free!"
Content Description
Other:
Mention of pregnant woman not seriously considering abortion; death and grief; tension between characters; comment about a divorce; young teen girl feels unloved by her father and jealous of her sister; girl's father misses her graduation day; secret is learned that causes pain for several people.
Info
Company:
Green Apple Entertainment
Reviewer:
Edwin L. Carpenter