Yellowbird
DVD Release:
April 7, 2015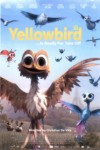 Synopsis
Limited Theatrical Release – Just when it's time to migrate to Africa, Darius, the elder of the flock, is wounded. He has no choice but to share all his secrets, wisdom and new flying routes with the first bird that happens to come along. The candidate is none other than Yellowbird, an eccentric little fellow who is super excited about the challenge, but without the slightest hint of knowledge or natural talent for migrating whatsoever.
Dove Review
Yellowbird was raised by a ladybug because when his egg fell out of the tree, she was the first and only thing he saw when he hatched. As he grew, he was afraid of the outside world so he stayed in his little surroundings without flying anywhere that took him into the real world.
One day Ladybug tricks him into going to find an acorn that she set far from the perimeters he was used to. Once he gets to the acorn, Yellowbird is summoned by Darius, an injured bird. Yellowbird is given the directions for Darius' flock to migrate south by a new route, but Yellowbird takes it upon himself to lead the group of birds to Africa. His lack of any knowledge of how to migrate and no sense of direction means Yellowbird takes his new-found family on an adventure that leads them to new discoveries and a new member of the flock. This is a charming story of friendship, following directions and listening to others, plus a few other valuable lessons about telling the truth, helping others, working together and being part of a flock/family. It is entertaining for the entire family. We are proud to award "Yellowbird" with the Dove "Family-Approved" Seal for all ages.
Info
Company:
Wrekin Hill Ent.