The Old Curiosity Shop
Theatrical Release:
July 12, 1995
DVD Release:
June 7, 2005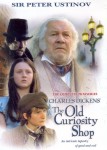 Synopsis
No other author in the English language is as adept as Charles Dickens at making characters leap from the pages of his novels, and "The Old Curiosity Shop" is no exception. An intricate tapestry of good and evil, its main character is a kindhearted man who is haunted by the vices within him.
In this splendid new adaptation, Peter Ustinov plays the lovable shopkeeper who lives with his precious granddaughter, Nell, in turn-of-the-century England. The old man had borrowed heavily from his evil landlord, Daniel Quilp. When Quilp discovers the old gentleman has been throwing the money away at the gaming tables, Quilp forecloses on the loans, takes possession of the shop and threatens to have the old man thrown in the madhouse. Nell and her grandfather are forced to flee London.
So begins an epic journey through the English countryside. Nell and her grandfather stay one step ahead of the relentless Quilp, until a mysterious stranger comes to their rescue and helps bring Quilp to an appropriate end.
Dove Review
"The Old Curiosity Shop," a film based on the story by Charles Dickens, is a wonderfully amusing tale set in old England. This film was enjoyable but drags a bit in a few scenes. The ending also seems rather abrupt as if there is supposed to be a part two to the film. It should be noted that some of the film's old English dialect makes it difficult to understand what the actors are saying. The themes in the film are a bit more mature as a few of them had a lot to do with money. This film is much better suited for children twelve and above. There are interesting characters in the film, such as little Nell and the grandfather. And the English charm to match. Dove is proud to award "The Old Curiosity Shop" the Dove Seal.
Info
Company:
Echo Bridge Home Entertainment