Open My Eyes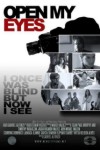 Synopsis
Photographer Paul Sanders has a passion for beauty—especially beautiful women. But in his spiritual blindness, he admires only the creation and not the creator. When Paul becomes physically blinded in a freak accident, he is forced to reconsider what true beauty means and where it comes from. With the help of Abigail, a recovering alcoholic and down-on-her-luck singer, Paul realizes the meaning of love and the power of the Gospel to change people's lives. Although he can no longer see, for the first time in his life his eyes are open. A film of faith and forgiveness, "Open My Eyes" proves that even the hardest hearts can be turned and that broken lives can be healed if only we are willing to believe.
Dove Review
"Open My Eyes" is a powerful and dramatic film that shows what God can do in the lives of people, and that no one is beyond the reach of God's grace. Paul Sanders is a well-known photographer who drinks a lot, takes pills, and has a massive ego. He is into beautiful women, too. But it is a recovering alcoholic named Abigail, who has turned her life over to Christ, who helps Paul find the hope he needs after he is blinded in a car accident. Abigail works as a waitress and is asked to bring the wealthy Paul his meals. She puts a rose in a cup on his tray and he enjoys the smell, not to mention her upbeat personality. It will take some time, but Paul begins to realize that this woman of grace is just what he needs in his life, as well as the God of grace who turned her life around.
We are pleased to award "Open My Eyes" our "Faith-Friendly" Seal for ages twelve and up. Turn your eyes to "Open My Eyes" and enjoy this compelling story.
Content Description
Sex:
A couple of innuendos and a double entendre or two, including one about a singer with "benefits."
Drugs:
A few bar scenes and drinking in several scenes, especially by one character; drugs are mentioned a couple times as is drinking; one man takes pills of some sort but he eventually becomes a Christian; wine served with meals.
Info
Reviewer:
Edwin L. Carpenter