Redemption of the Heart
Theatrical Release:
January 17, 2015
DVD Release:
February 15, 2015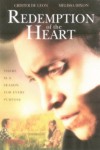 Synopsis
Alex is a lonely and broken man who has walked away from his Christian faith, but is unable to walk away from his past—a past filled with guilt for abandoning his parents when they needed him most. Now his parents are deceased and in his eyes there's no hope of forgiveness. Suffering from a heart disorder, Alex is in major debt from medical bills and is trying to make something of his life.
He allows himself to be manipulated by shallow women and by his friend Daniel, who suffers from a gambling addiction. Daniel always seems to pull Alex into his illegal, get-rich-quick schemes. One of these schemes involves the two posing as missionaries and swindling churches out of thousands of dollars. In time Alex finds himself living the good life, debt free and financially secure, but still empty inside and lonely.
At one of the churches Alex is scamming, he meets Elaine, a sincere Christian woman, and they soon fall in love. Living a double life and with the FBI closing in on him, Alex will be faced with a choice that could cause him to lose the woman he loves and betray the only friend he has. Jacob, a wise Christian man, comes into Alex's life and offers him a second choice…a choice to lose his life in order to gain a new one. Whichever choice Alex decides to make, each comes with its own cost.
Dove Review
"Redemption of the Heart" is a fantastic film, inspiring, and tells a remarkable story. A couple of young men, Alex Montoya (Crister De Leon) and Daniel De La Cruz (David Morales), are scammers who have hatched a plot to bilk churches of money by telling the churches that the funds are going to mission work. Alex had been raised by Christian parents, but his father, a pastor, had been mistreated and is now deceased. Alex has never forgotten how his dad was treated by a fellow clergyman.
But things change when Alex meets Elaine Tellez (Melissa Dixon), a Christian woman who he is attracted to and begins dating—until she learns of Alex's scheming. When Alex is finally arrested by FBI agents, Pastor Jacob (Joe Lambert) takes pity on him and convinces the other pastors to drop the charges if he takes Alex under his wing and works with him. Alex has to pay the churches back and apologize. He also finds God and his life dramatically changes. Soon Alex works on Daniel, who has been captured and put in prison. As Jacob moves to another ministry, Alex takes on his role and secures a release for Daniel and takes him under his wing. Just as everything appears great, an unexpected event leaves Elaine in tears. But God has a surprise ending for Elaine, an ending that will dry her tears.
"Redemption of the Heart" features a strong performance by Crister De Leon as Alex, and is a tightly written and directed story: all lean with no fat! Its themes include forgiveness, offering opportunities for second chances, and a reminder that God is with us when everything looks bad. We are pleased to award this movie our "Faith-Friendly" Seal for ages twelve plus. "Redemption of the Heart" soars and lifts the spirit.
Info
Company:
ChristianMovies.com
Starring:
Crister De Leon
,
Melissa Dixon
,
Joe Lambert
,
David Morales
,
Danielle Lozeau
,
Sandy McOwen
,
Deborah Cristobal
,
Keith High
,
Jose Orellana Jr.
,
Lacey Russo
,
Alan Stachwell
,
Craig Scott
,
Elle Seymour
Reviewer:
Edwin L. Carpenter