Love Waits
DVD Release:
December 23, 2014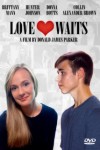 Synopsis
Fourteen-year-old Cheri Martin's world is turned upside down after the death of her mother and the family move from a small town in Nebraska to a larger city in the South. Her fragile psyche appears to be an easy mark for Judy Green, the social queen at Cheri's new school, who spearheads a stamp-out-virginity campaign. Judy turns her attention and efforts toward converting Cheri when she finds out that the newcomer is still sexually pure. How will a young lady in Cheri's predicament succeed in making Godly decisions, especially since her father has withdrawn from God since the loss of his wife?
Dove Review
This movie focuses on something that is difficult for some people to talk about: teens remaining chaste and pure until marriage. In this movie Cheri Martin is pressured by Judy Green, a popular girl at the high school, to lose her virginity. She is "assigned" to a young man named Duke, but he is like Cheri: feeling pressured when he really doesn't want to lose his virginity until marriage. He and Cheri like each other and agree to wait. Eventually they both decide to focus their attention on Christ and to stand up to Judy. They also determine to try to win her to the Lord.
The movie contains some discussions about sex and, although it doesn't get graphic, we are awarding our "Faith-Friendly" Seal to the movie for ages twelve plus. This could be a good educational tool for teens.
Info
Company:
Sword of the Spirit Publishing
Writer:
Donald James Parker
Producer:
Donald James Parker
Industry Rating:
Not Rated
Starring:
Collin Alexander Brown, Brittany Mann, Donna Botts, Kaitlin Borst, Haleigh Johnson, Hannah Dohse, Penny Harrell
Reviewer:
Edwin L. Carpenter