A Gift Horse
DVD Release:
April 14, 2015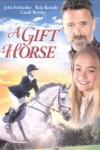 Synopsis
Amanda (Kayla Kenedy), a young and energetic girl, is torn apart by the loss of her mother to cancer. She struggles to accept the fact that her father has moved on to a new relationship. In order to cope, Amanda spends her time at a ranch owned by business tycoon, Mr. Canter (John Schneider). Mr. Canton's own daughter, Abigail, refuses to appreciate all the things her father has given her and acts out in order to gain attention. The arrival of a white horse named Misty opens up Amanda's heart. Misty is rejected by Abigail, but Amanda is determined not to give up on this beautiful horse. Along with an inspiring and loving horse trainer named Charlotte (Madeline Thelton), Amanda proves that Misty is a true champion and restores her happiness in the process. "A Gift Horse" is a family friendly, inspirational film for horse lovers across the world.
Dove Review
Amanda is a hard-working young girl on Mr. Canter's ranch though sometimes working too long, making everyone worry that she is spending too much time there and neglecting her school work. But Charlotte, the horse trainer, sees something in the young girl and can identify with Amanda's loss of her mother. Charlotte takes Amanda under her wing because she also lost a parent, her father, to cancer.
The loss of a parent is not the only thing the two have in common; they also believe in the new horse that Mr. Canter bought for his daughter to ride in competitions. But Abigail, acting like a spoil brat, wants nothing to do with this new horse, Misty. So when Misty comes up lame, it is Amanda who nurses her back to health and Charlotte talks Mr. Cantor into letting Amanda ride Misty in the competition. This charming movie has many valuable lessons in it about believing, friendship, trust and second chances. It also portrays how sometimes when there is a loss in the family, whether due to death or divorce, it is hard for children, and adults need to listen to their feelings and understand where they are coming from.