The Worst Day Ever! (Illustrated)
Book Release:
November 3, 2014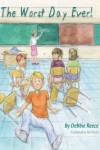 Synopsis
This is the second story inspired by author Debbie Reece's son. James enjoys going to school until one day when he gets into trouble, someone makes fun of him, and he has to miss recess. "This is the worst day ever and I just know you won't even want to hug me!" Thankfully, he learns that there is someone to hug and love him no matter how bad his day is. When his best friend Molly has a horrible day, he consoles her with the same message. This true story reminds children that it is okay to make mistakes. There will always be someone to love and hug them no matter how bad their day is. And just like in her previous children's book "The Christmas Pumpkin," this story includes a coloring page where children can express their creativity and draw how a hug feels to them.
Dove Review
Reading a story to your children is always a great way to spend time together. This charming book with its wonderful story will encourage your youngster during those bay days at school. It reminds them that there is someone at home who will hug them no matter how the day turns out. It also shows that there are times when others may have bad days too.
This is an entertaining and loving book for your youngsters that highlights the importance of good behavior at school. We are very proud to award the children's book "The Worst Day Ever!" with the Dove "Family-Approved" Seal for all ages.