Kings Heart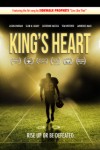 Synopsis
Joey, the smallest starting offensive lineman for his high school varsity football team, faces insurmountable odds when his world is turned upside down three days before the State Championship game. Will Joey rise up and be the man his father equipped him to be, or will he be defeated forever?
Dove Review
"King's Heart" is an inspirational and must-see short film that shows that a life well lived will impact others, even when that life comes to an end. Louis King teaches his son Joe that he can accomplish anything with "heart." The State Championship game is coming up for Joe's high school varsity football team, but three days before the big game Joe's father dies suddenly. Some say Joe shouldn't play in the big game and some say he should. Joe's Uncle Phil reminds him that back in high school Phil was the biggest and most equipped to play football but he didn't have the "heart" to do what it took. Joe's dad Louis did, and he made the team. Ultimately, Joe decides to show the "heart" his father said he had all along.
This film is dedicated to the memory of Louis Bellantoni, who passed away on Nov. 23, 2010. A stirring song about "the glory of the King" plays in the background, making a compelling statement about Christ and his help in our lives. Louis' son Joe and his team won the New York Class D State Championship 27-0; years later Joe's son little Louis played baseball and his team won the Baseball Class C State Championship, following Louis' recovering from ACL surgery. This film will touch viewers and clearly shows that a life well lived never dies, but continues to impact others. We are pleased to award "King's Heart" our "Faith-Friendly" Seal for all ages. As the movie states at the end with Proverbs 21:1, "the king's heart is in the hand of the Lord." This movie has earned five Doves, our best rating.
Content Description
Other:
Death of a man and the grief of his family; woman wonders why God would allow her husband to die, but she makes peace with it eventually; an evil voice is heard a few times, apparently representing the enemy because John 10 is shown on screen about the thief coming to steal, kill and destroy; son struggles with his dad's death but realizes his life still impacts him.
Info
Company:
Bridgestone Multimedia Group
Writer:
Kevin and Maria O'Bryan
Director:
Kevin and Maria O'Bryan
Producer:
Kevin and Maria O'Bryan
Reviewer:
Edwin L. Carpenter