Kid In King Arthurs Court
Theatrical Release:
August 15, 1995
DVD Release:
August 15, 1995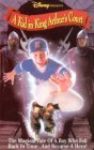 Synopsis
Return to those days of old when knights were bold and baseball ruled the land. Baseball? It's Camelot meets the sandlot in Disney's A Kid In King Arthu's Court, the hilarious updating of Mark Twain's timeless A Connecticut Yankee in King Arthur's Court.
To 14-year-old little leaguer Calvin Fuller, life is like one big strikeout when he lets his team down. Then an earthquake sends him through a magical time rift, and he finds himself in King Arthur's court. But all is not well with the realm. An aged King Arthur is in danger of losing control to the evil Lord Belasco, and now it's up to Calvin to save the kingdom. But before he can find a way to vanquish Belasco, he must first find a way to conquer his own fears.
Info
Company:
Buena Vista Home Video
Writer:
Michael Part and Robert L. Levy