The Duff
Theatrical Release:
February 20, 2015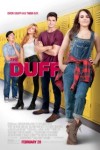 Synopsis
Bianca is a content high school senior whose world is shattered when she learns the student body knows her as 'The DUFF' (Designated Ugly Fat Friend) to her prettier, more popular friends. Now, despite the words of caution from her favorite teacher, she puts aside the potential distraction of her crush, Toby, and enlists Wesley, a slick but charming jock, to help reinvent herself. To save her senior year from turning into a total disaster, Bianca must find the confidence to overthrow the school's ruthless label maker Madison and remind everyone that no matter what people look or act like, we are all someone's DUFF.
Dove Review
At Malloy High School a girl named Bianca (Mae Whitman) has popular friends but has no idea she is used by some guys to get closer to her popular companions. She doesn't realize this until Wesley (Robbie Amell) tells her she is a DUFF (Designated Ugly Fat Friend) and the gatekeeper to her friends. She gets ticked off with Wesley, but later on they strike a bargain: he will help her become trendier in fashion and more popular, and she will help him pass his science class.
This idea at first appears to be a disaster. She goes to a clothing store and is unknowingly video recorded on a girl's phone while singing about how hot a boy named Toby (Nick Eversman) is, and acting as if she is "making out" with a mannequin that is supposed to be Toby. The video goes viral and Bianca has to deal with the huge embarrassment. Still, she finds that Wesley is actually very helpful and they soon develop a friendship.
The movie features funny moments. In one scene Bianca is looking at an old Halloween photo of herself dressed up, along with her two beautiful friends, as "Charlie's Angels." She laments that she went as their male boss Bosley. "Why?" she asks herself. "There were three angels after all."
Ultimately the movie is about becoming one's own person and that friendship and even romance can start in unlikely ways. It also shows what cyber bullying can do. However, due to the excessive use of language and sexual content, we cannot present this movie with our Dove "Family-Approved" Seal. Near the end of the film, a male teacher comments on a male student being "hot." That comment should give our Dove patrons an idea of the kind of movie it is, plus almost all of the sexual comments are made by teens in high school.
Content Description
Sex:
A lot of sexual content including several comments about "making out;" slang for having sex; comment about a girl's "rack;" passionate kissing; girl in a store acts like she is having sex with a mannequin and she places its hand on her breast and lies back with it on top of her and she moans; frank sexual comments; in a blooper reel at the end, two male teachers briefly kiss and laugh about it.
Language:
Use of strong language throughout including two of "J," one "F" bomb; many slang references to breasts and male genitalia and testicles; cursing featuring just about every word imaginable.
Drugs:
Mention of someone using steroids; several students drink from red cups at a party but it is presumably soda.
Nudity:
Strong cleavage in a few scenes; shirtless guys; short skirts on girls; girl walks into guy's locker room and sees young man in underwear; young man shows off his hard stomach.
Info
Reviewer:
Edwin L. Carpenter