Fishes N Loaves (Manuscript)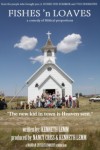 Synopsis
When a minister from a tough, inner-city neighborhood is reassigned to a small rural church, he and his young family must adjust to their new surroundings.
Dove Review
To the author: "Fishes 'N Loaves" is a realistic story about a struggling pastor's discovery of a better life, which comes in an unlikely way. He temporarily moves to help a congregation find a permanent replacement for their retiring pastor, but he and his family find more than they imagined in their new home in Arizona.
I enjoyed this story. I have a background in Christian ministry, so I appreciated the nuances of the conflicts and, conversely, the blessings of pastoral ministry. I could feel Pastor Randy's pain as he went through the process of getting his family on board regarding the move, and then dealing with new church members, all while attempting to maintain a kind spirit and his dignity. The story shows that his wife Mary Louise is a good woman. She has her mind on other things at the beginning of the story, but gets on board and stands beside her husband in doing the right thing. Alex and Chrissy are realistic characters, bickering but still holding on to the brother/sister relationship they have, even though she is really his aunt. Tina flirting with Pastor Randy to make someone else jealous is a genuine scenario that is believable and yet handled with class.
There were appropriate moments of humor, which alleviated some of the tension. It is funny when Pastor Randy comes in from working at his brother-in-law's restaurant and says, "I'm supposed to be spreading the gospel, not garlic and prosciutto. I'm supposed to be healing souls, not tossing dough." Mary Louise stepping into manure in her dress shoes sounds funny too, though she cries over it. And Chrissy joking about being a cow in the play though she is a vegetarian is another funny moment.
The manuscript does a good job showing what can happen when a person puts his head down and charges forward, even when life is difficult. This story should appeal especially to the faith-based market. The characters are nicely developed and the story is wholesome, yet features characters dealing with realistic conflicts and developing as the story progresses. I hope to one day review the movie. We award "Fishes 'N Loaves" our "Faith-Friendly" Seal for all ages. I hope this story multiplies and reaches more people just as the fish and loaves multiplied in Jesus' miracle.
Content Description
Nudity:
Woman's dress is described as "too low, too short, and too tight" but this is isolated and not common throughout.
Info
Company:
Nandar Entertainment
Reviewer:
Edwin L. Carpenter