The New Goldilocks and the Three Bears in American Sign Language
DVD Release:
January 13, 2015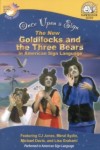 Synopsis
The quaint home of the Three Bears sits alone overlooking the scenic California coast. But today, something will change. An unexpected visitor awaits them when they return after a walk on the beach. Then they will learn about the power of sign.
Dove Review
This DVD is from the "Once Upon A Sign" series, with this episode featuring the well-known Three Bears. This time the tale is told in American Sign Language for those that are deaf. Live action and animation only add to the fun.
This is a wonderful DVD that will appeal to everyone, especially those who know or are interested in learning sign language. It includes subtitles and vocal story telling. We proudly award the Dove "Family-Approved" Seal for all ages.