The Magic Mirror in American Sign Language
DVD Release:
January 13, 2015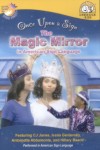 Synopsis
Young Alice Cogswell wants to enter the talent show, but she's unsure of herself. After an audition that doesn't go her way, she gets some magic help. Alice then discovers that she doesn't need any magic help to let her ASL poetry sparkle.
Dove Review
Alice creates beautiful poetry in American Sign Language, but her self-confidence is low. When her mirror comes alive to encourage her to overcome those fears, Alice gets over-confident and relies on the mirror to help instead of what is inside herself.
The "Once Upon A Sign" series provides stories for the deaf, as well as for those who can hear. Each story is told in sign language, along with vocal story telling and subtitles, and encourages sign language through storytelling. These tales demonstrate the signs for fun words and educate viewers in ASL. "The Magic Mirror in American Sign Language" also teaches about being humble and believing in yourself. We are proud to award it the Dove "Family-Approved" Seal for all ages.