Texas Farm Girl: Reap What You Sow (Illustrated)
Book Release:
January 6, 2015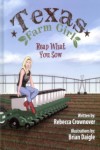 Synopsis
Based on an actual experience by the author growing up on a farm with her grandfather, she tells the story of a life lesson she learned planting corn.
Texas Farm Girl's first attempt at planting corn for her Paw Paw didn't go as well as she hoped. But after a gentle talking to from Paw Paw, Texas Farm Girl took responsibility for her actions and corrected her mistakes–and the result was a full harvest of corn later in the year! This book inspires and teaches children to understand the importance and paying attention to detail; know that their decisions today can impact their lives in the future; take responsibility for their actions and account for their mistakes; and overcome adversity and persist so they can ultimately achieve their goals.
Dove Review
"Texas Farm Girl: Reap What You Sow" is a wonderful experience for any youngster. It is a charming story of learning about choices you make and the consequences that may result when the outcome is not what you planned. The tale also contains definitions of things used on the farm.
This colorfully illustrated book is entertaining and educational. It is a fun story that encourages moral lessons for everyone. The Dove "Family-Approved" Seal for all ages is presented to this book.
Info
Starring:
Illustrated by Brian Daigle