A Horse Tale
DVD Release:
November 17, 2015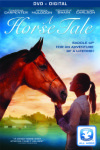 Synopsis
Michael Thompson is a big-city accountant raising a teenage daughter, Chloe, on his own. When an opportunity comes for him to take a working Christmas vacation with Chloe at a beautiful horse farm in the country, he jumps at the opportunity. Samantha Harrison is a 3rd-generation horse farmer with a farm on the brink of foreclosure and a chip on her shoulder. When Michael meets Samantha, sparks fly. Convinced that she doesn't need any help from a big-city accountant, Samantha lets Michael know it every chance she gets. Meanwhile, Chloe has discovered a new best friend, Holly. Holly is a thoroughbred that could be the answer to saving the farm, but Chloe cannot let her go. Will Michael and Sam learn to work together and maybe find love somewhere in the middle, and can Chloe save Holly, the farm and Christmas?
Dove Review
Michael is a trying to raise his daughter Chloe by himself, but is a bit over-protective. When Chloe has an incident at school, his assistant suggests that he go to her uncle's horse farm to help him with the books and keep the place from being foreclosed on. It happens to be Christmas and, perhaps, a good time for the two of them to get away for a working vacation.
Samantha has been running the farm but is the last to find out the reason that Michael is there. Her father and sister have no problem with this city guy trying to help; Sam, as everyone calls her, doesn't think outside help is the right way to go. But the two try working together toward their one common goal of saving the horse farm. This is a good family movie that promotes working together as a family. It also speaks to accepting help to save what is most important. The film also shows how hard it is sometimes to let our children grow up without being too over-protective. We are proud to award "A Horse Tail" the Dove "Family-Approved" Seal for all ages.