The Longest Ride
Theatrical Release:
April 10, 2015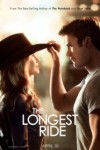 Synopsis
Based on the bestselling novel by master storyteller Nicholas Sparks, "The Longest Ride" centers on the star-crossed love affair between Luke, a former champion bull rider looking to make a comeback, and Sophia, a college student who is about to embark upon her dream job in New York City's art world. As conflicting paths and ideals test their relationship, Sophia and Luke make an unexpected and fateful connection with Ira, whose memories of his own decades-long romance with his beloved wife deeply inspire the young couple. Spanning generations and two intertwining love stories, "The Longest Ride" explores the challenges and infinite rewards of enduring love.
Dove Review
"The Longest Ride" features good storytelling in the film written by Craig Bolotin and based on the novel by prolific writer Nicholas Sparks. The story opens with an audience-grabbing scene in which Luke Collins (Scott Eastwood) is injured while riding a bull. It takes awhile for him to heal, and during this period he meets Sophia Danko (Britt Robertson) at a rodeo when his hat falls off while he is performing. She picks it up and when she hands it to him as she sits in the stands with her friends, he tells her to keep it. A little smile between them starts it all. One night while driving in a downpour in Luke's truck, a car goes off the road behind them and crashes. Luke turns the truck around and helps pull an elderly man (Alan Alda) from the burning car. The man asks Sophia to grab a box for him from the front seat.
The man, Ira Levinson, plays a major part in the film as Sophia, waiting at the hospital to hear word about him, reads a letter found in the box. It's a love letter written by Ira to a woman named Ruth. The letter and others in the box help forge a relationship between Sophia and Ira, as Sophia reads them to Ira and he tells her of the wonderful life he and Ruth (Oona Chaplin) had together. The flashbacks to Ira's life intermingle well with the love story between Sophia and Luke. Their backgrounds are totally different, with Luke planning to stay on the rodeo circuit and Sophia planning to move to New York for an art internship. Ira shows them that sacrifice is a big part of true love.
Despite good performances and an interesting ending, the movie crosses our content acceptability line in three categories, placing it outside of our Dove "Family-Approved" territory. We are therefore unable to present "The Longest Ride" our Dove Seal.
Content Description
Violence:
Man has blood on his head after being pulled from car that went off the road; a few scenes during WWII as people are shot and explosions seen and heard.
Sex:
Sex occurs several times between an unmarried couple; kissing; couple seen in shower and in bed together; song about feeling a sin coming on and it says, "Jesus, please don't hold me back."
Violence:
Man has blood on his head after being pulled from car that went off the road; a few scenes during WWII as people are shot and explosions seen and heard.
Drugs:
Drinking and bar scenes; drinking includes beer, wine and champagne; man takes pain pills for an injury.
Nudity:
Partial rear male nudity; partial nudity featuring side views of a nude couple and woman's side breasts are seen; strong cleavage in a few scenes; shirtless man in a few scenes; bare midriffs; nude painting of a woman.
Info
Company:
20th Century Fox
Reviewer:
Edwin L. Carpenter