The Sparrows Nesting
DVD Release:
April 20, 2015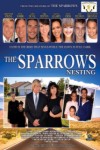 Synopsis
Feeling a lack of purpose in her life as her teenage children, Emily and Max, grow increasingly independent and her husband, Mike, devotes most of his time and energy to his growing business, Anna Sparrow follows the advice of her pastor and volunteers at the local food bank. While helping the disadvantaged, Anna meets Maria Sanchez. From very different backgrounds, the two women bond over their shared love for their families. As the women grow closer, Maria reveals her concern for her precocious but lonely daughter Bella, who she fears is being bullied at school. At Anna's urging, her daughter Emily takes Bella under her wing. Maria's husband, Hector, loses his job and his ability to provide for his family. He falls into despair when he's unable to find work, and returns to drinking. When he finds Maria at the Sparrow's house, he assumes she is cleaning there. His pride overcomes and he demands she leave with him. Anna agrees to watch Bella as Maria leaves with Hector, hoping to reason with him, make him understand how much she loves him, and that she knows he is always there for his family. A short time later, the police arrive at the Sparrow residence with devastating news. As they weigh the impact on young Bella, Anna and Mike face one of the most important decisions of their lives.
Dove Review
"The Sparrows Nesting" clearly shows that keeping hope alive makes life worthwhile. The movie features solid acting, a touching story, and a strong ending. Christopher Atkins plays Mike Sparrow, a dedicated and hard-working father. His wife, Anna (Terri Minton), has a big heart and volunteers at a soup kitchen where she meets Maria (Valenzia Algarin). Maria is a terrific cook and becomes good friends with Anna, and Anna, after meeting Maria's daughter Bella, loves Bella (Chalet Lizette Brannan). This is especialy important when tragedy occurs.
This picture features important themes such as hard work, having friends to confide in, and the importance of family. Maria confides in Anna. However, Maria's husband Hector (James Duval) loses his job and doesn't confide in anyone except Maria. He takes his responsibility to provide for his family very seriously and when he doesn't land a job right away he begins drinking again.
The movie has a strong conclusion, with Pastor Dave (Kevin Sorbo) and his wife Susan (Judy Norton) talking with Mike and Anna about knowing the will of God. We are awarding this movie our "Faith-Friendly" Seal for ages twelve plus. Parents should consult our content listings; some parents will be fine with their kids a bit under age 12 watching the movie. The film does a terrific job making clear that sometimes the answers to our questions are right in front of our eyes and simpler than we could have imagined.
Content Description
Drugs:
Drinking in a few scenes including beer; comment about margaritas; man drives drunk and there is an accident.
Info
Company:
Nandar Entertainment
Reviewer:
Edwin L. Carpenter