Catching Faith
DVD Release:
August 18, 2015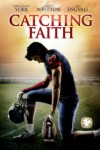 Synopsis
From the outside, Alexa Taylor has the perfect life. Her son is a high school football star, her daughter is a straight A student and her husband is CFO of a booming start-up company. But her family's perfectly crafted social image begins to fall apart when Beau is removed from the football team for drinking. With each family member facing their own crossroads, the entire Taylor family needs to find their way back to faith and each other.
Dove Review
"Catching Faith" is the inspiring story of the Taylor family and the lessons they learn when they exercise their faith. Alexa Taylor (Lorena Segura York) seems to have everything: her son Beau (Garrett Westton), the school football star; her daughter Ravyn (Bethany Peterson), in the lead for valedictorian; her husband John (Dariush A. Moslemi), who is devoted to her. Yet when she experiences the sudden loss of her dad and Beau is caught drinking, her world comes crashing down. She attends a Bible study that encourages her to re-examine her priorities and she realizes that she has made some poor choices herself. When Beau is suspended from the team as his teammates drive toward a championship, she wonders how anything good could come from what has happened. But the family begins to draw on their faith, and they are reminded that things can work out for the best in the end.
The film features scenes that will encourage viewers to think about integrity and how integrity means doing the right thing even when no one is looking. The film's ultimate theme is a good one: God is enough. We are pleased to award our "Faith-Friendly" Seal to "Catching Faith." Catch the film yourself. You won't regret it.
Content Description
Drugs:
Underage drinking at a party, but family conversations ensue and one young man learns a valuable lesson; drinking contest is mentioned at the party; mention of drinks at a party and beer is seen being poured from a keg.
Other:
Tension between several characters; woman slams down coffee cup in anger at a Bible study; death of a woman's dad and grief that follows; girl is accidentally given answers to a test by her teacher and is tempted to use them; young man says he is angry with God but he changes his views later; teen's car is covered with TP.
Info
Company:
RLJ Entertainment
Reviewer:
Edwin L. Carpenter