Abbott and Costello Funniest Routines Vol. 2
DVD Release:
January 25, 2011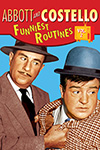 Synopsis
Join the most popular comedy team in history with a collection of their most loved classic skits! The laughter is endless with Abbott and Costello at their very best in this timeless medley of their funniest routines! Digitally re-mastered and fully restored in high definition, this is perfect for any fan.
Dove Review
Bud Abbott and Lou Costello are known for their hilarious comedy. Volume 2 features more of the skits this team did to entertain audiences. This collection is from the Colgate Variety Hour that ran from 1951 to 1954. As in the original show, the programs are in black and white.
There is never a dull moment when it comes to Abbott and Costello, as older generations well know. They make the simplest things look funny, like making a phone call, getting into a hammock on a ship, singing, or even dancing. Bud and Lou were, and always be, a class act full of humor. This is truly a wholesome laugh for everyone ages 1 to 100. We are proud to award this Volume 2 collection of Abbott and Costello with the Dove "Family-Approved" Seal for all ages.