Appalachian Trial
DVD Release:
June 8, 2004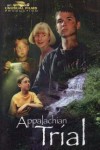 Synopsis
A pleasant hike turns into an ordeal when Jeremy Crandall tempts his brother Brendan, along with Kayla and Zack Hart, to disobey their parents and go past the end of the marked trail. When the kids try to retrace their steps, tempers flare and hardships reveal important needs in both Kayla's and Jeremy's lives. As the dads look for the children, Mr. Crandall gains a new understanding of what it means to walk by faith. Join the Hart and Crandall families as they experience an "Appalachian Trial."
Dove Review
A camping trip involving two families on the Appalachian Trail turns into an adventure no one could have anticipated!
Mr. and Mrs. Hart are reaching out to Mr. Crandall and his children Jeremy and Brendan after the loss of Mr. Crandall's wife a few months before. Their hope is to bring some fun and camaraderie between the families and in a small way heal some of the emptiness the Crandall family is dealing with. However, an enjoyable hike on their first night in the woods turns frightening when Jeremy disobeys the adults and leaves the path with his brother and the Hart children, Kayla and Zack. They soon find themselves lost, afraid and unable to find their way back. Nightfall and a storm is fast approaching, causing greater fear and conflict between the four. When the children don't return to the campsite, the adults quickly realize they are in a dire situation. The fathers set out to find the children. As they struggle with the darkness and unfamiliar terrain, Mr. Crandall is forced to face questions and address his own inner turmoil. He begins to learn what it means to walk by faith in the natural world and in the spiritual realm. "Appalachian Trial" is an engaging story focusing on cooperation and teamwork when trials come. Viewers of all ages will be drawn into the story and be challenged to live faith out in the hardest of places. We are happy to approve this film for viewers of all ages.