Jacobs Ladder: Episodes 3 – 4: Naomi, Ruth And Boaz
DVD Release:
July 29, 2003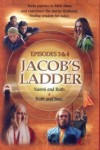 Synopsis
Episode 3: Naomi and Ruth—A severe drought has brought famine to the land of Canaan. Elimelech and his wife, Naomi, have no choice but to leave all that they know and venture to Moab. They are not welcome there and new hardships await them. Lessons about facing trials through faith and building healthy communities that reach out to outsiders come through in this powerful story where cultures clash. Episode 4: Ruth and Boaz—Naomi and her daughter-in-law, Ruth, arrive back in Canaan to face a harsh reality. With no home and no money, these two widows need a plan for survival. Hard work, the law of the Lord, and a steadfast faith will all play a part in their success.
Dove Review
Jacob's Ladder episodes three and four, titled "Naomi and Ruth" and "Ruth and Boaz," expands the Biblical story of Ruth, using a bit of creative license to imagine what might have happened in the background of the story.
A group of teens are transported back to the time of Ruth to help out. One of the teens, a girl named Jessica, acts as a cousin. We see the dry lands of Canaan and Naomi and her husband Elimelech moving with their two sons to Moab. While there the sons marry Ruth and Orpah. However, tragedy strikes and Elimelech and his two sons die, leaving Naomi with two daughters-in-law. In episode 4 Orpah moves on, but Ruth insists on following Naomi back to Canaan, telling Naomi that she will become part of her people and believe in her God. Ruth meets Boaz, a landlord that takes a liking to her and leaves blessings from the gleaning on the ground for Ruth. Will he eventually marry her, or will an elder relative get in the way?
Its interesting to note that the film reveals that Ruth and Boaz had a son named Obed, and from Obed came Jesse and then David, who became king, and was an ancestor of Christ. We are pleased to award our "Faith-Friendly" Seal for ages 12+ to this film. Travel back in time with Ruth and Naomi!
Info
Company:
Gateway Films / Vision Video
Reviewer:
Edwin L. Carpenter