From Aardvark to Zucchini: Alphabet Prayers
DVD Release:
July 6, 2004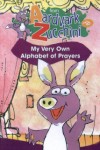 Synopsis
Join the kids, critters, and squashes in this prayer-packed program as they thank God from A to Z. You'll soon learn that praying is fun to do, and fruitful too! Filled with songs and rhymes, this animated video is an entertaining and educational introduction to prayer for preschoolers and their parents.
Dove Review
This film prays through every letter of the alphabet! Fun and silly animals teach ways to pray and what to ask for and be thankful for during prayer. Some prayers are sincere, others are inquisitive, and some are silly and cute! The video also includes lots of fun and easy interactive activities you can do with your child, like making a list of things they are thankful for.
This film teaches young children that praying is easy and a great way to talk to God, in both good and bad times. Kids will learn fun, easy-to-remember jingles and be challenged to think of things to be thankful for. It also teaches children not to fear prayer, encouraging them to ask questions.
Children can watch this film over and over and still learn new things about prayer. We are proud to award this film the Dove "Faith-Friendly" Seal for all ages.