A Perfect Chord
DVD Release:
September 1, 2015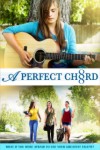 Synopsis
Cadence has an incredible gift for music. The only problem is no one knows it. Overcome with stage fright, Cadence has hidden her talent away. She only performs in the comfortable confines of her school music room, after hours, and only for her best friend Lizzy. As the daughter of successful engineer parents, Cadence feels the pressure to be heard. Mika comes from a classically trained musical family and must contend with her piano-genius brother. She struggles to deal with the weight of expectations as she wrestles with her talent and the style of music her heart yearns to play. "A Perfect Chord" is an inspiring film about overcoming fears, living up to expectations, the power of friendship, and using one's gifts and talents to inspire others.
Dove Review
"A Perfect Chord" is a showcase of excellent Christian music! The movie's plot focuses on Cadence (Malia Flack), a talented teen guitar player/singer, who once fainted from stage fright and has yet to overcome her fear. She gets support from her talented parents (Mike and Katie Flack), as well as her best friend Lizzy (Avery Noel), but she can't seem to get past the stage fright. Cadence and Liz overhear an amazingly talented pianist, Meeka (Elina Odnoralov), and Cadence and Meeka begin to play and sing together. The results are inspirational.
When Lizzy volunteers Meeka and Cadence for an open mic night, Cadence is both angry with Liz and terrified. Will she be able to overcome her fears and finally perform and share her gift with others? We are pleased to award this film our Dove "Faith-Friendly" Seal for all ages. The film makes it clear: fears can be overcome. Watch it and enjoy the amazing story and music!
Info
Company:
Bridgestone Multimedia Group
Reviewer:
Edwin L. Carpenter