Heidi
DVD Release:
July 23, 1996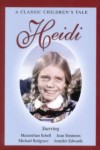 Synopsis
The made-for-television version of Johanna Spyri's family classic. Heidi (Jennifer Edwards), a young orphan girl, is sent to live with her grandfather (Michael Redgrave) in the beautiful Swiss Alps. The gruff and bitter old man at first views Heidi as an ill-mannered child and unwanted responsibility, but he soon becomes quite attached to her.
Dove Review
Heidi is an orphan girl sent to live in the Swiss Alps with her old stubborn grandfather. He takes her in reluctantly. Heidi feels unwelcome at first, but soon befriends the neighbor boy, Peter, who tends goats. She slowly begins to soften her grandfather's heart as he opens up to her.
Later, Heidi's Uncle Richard takes her to Frankfurt to live with his crippled daughter. As Heidi tries to fit in with the family her adventures keep everyone on their toes! She softens the heart of the governess, but misses her grandfather. During a two week holiday Heidi, her crippled cousin, and the governess visit her grandfather in the mountains. Her cousin is challenged to learn to walk again! A beautiful story of a family's love for one another, with beautiful scenery from God's country. This film has been awarded the Dove "Family-Approved" Seal for all ages.
Info
Company:
Gateway Films / Vision Video