The Gospel of the Antichrist
DVD Release:
July 15, 1997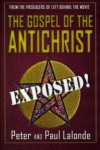 Synopsis
Wireless internet, online newspapers, magazines, satellite radio, digital television… these forms of global communication are more powerful today than they have ever been. Are they the gateway to a new and enlightened existence for humanity? Or are they an ominous, consolidated voice that seems to champion popular causes while undermining traditional Christian faith?
Is this headlong charge into a world of high-tech communications really the gospel of the Antichrist? If so, what are the implications and consequence of this insidious deception?
Join Peter and Paul Lalonde as they probe and analyze these false prophets, stripping away the falsehoods and deceits that obscure the terrifying truth.
This informative video provides keen and perceptive insights into a movement that threatens the spiritual well-being of every Christian.
Dove Review
"The Gospel of the Antichrist" will open your eyes to what is happening in the world regarding beliefs such as New Age teachings, etc.
The documentary features created scenes symbolizing what is happenings in the world and how the world is being "set up" for the debut of the Antichrist. Also featured are comments by a number of news people; various Scripture passages are included such as sections from Genesis and Isaiah. Peter and Paul Lalonde share insights that are enlightening and interesting. We are delighted to award this film our "Faith-Friendly" Seal for ages 12+. Watch this illuminating documentary and stay informed!
Info
Company:
Cloud Ten Pictures
Director:
Andre van Heerden
Reviewer:
Edwin L. Carpenter