Almost Home
DVD Release:
October 6, 2015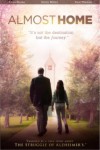 Synopsis
Rachel Baines is a mature, responsible 11-year-old girl. Her mother Valerie spends her days working as the office manager at an accounting firm and her nights trying to take care of the home that belongs to her dad, Doyle, a recent widower and resident at a nearby nursing home. Each afternoon Rachel makes the short trek home from the bus stop, always under the watchful eye Miss Edna, her caring and nosey neighbor. But today Rachel's afternoon holds something different. Her grandfather Doyle is on a mission to find his daughter (Rachel's mother) and Rachel joins in the adventure. Doyle's memory isn't what it once was and they soon find themselves lost. Valarie must enlist the help of friends and neighbors, as well as the local police, to find them. In the end, it is prayer and a strong belief in God's mercy and protection that lead Valarie, Doyle and Rachel to the answers they're searching for.
Dove Review
Rachel and her grandfather go on an adventure, but they get lost while searching for Rachel's mother. Spending a day with a grandparent is always an enjoyable time, but Rachel realizes something is not okay with Grandpa Doyle. With help from a nice man along the way, Rachel knows what she has to do and where they have to go to get home.
This is a tender story of love and faith. The most precious time with our older family members is unplanned, and we always enjoy those great memories. It is a tale that will remind everyone how important it is to tell our loved ones that we love them every chance we get. "Almost Home" is a heart-warming story and we are proud to award this film the Dove "Faith-Friendly" Seal for all ages.
Info
Company:
Bridgestone Multimedia Group