Adventures In Retirement
DVD Release:
August 17, 2010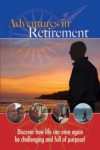 Synopsis
The thought of retirement can fill people with dread. For some it is a time of major adjustments, perhaps to life without a partner or fighting a long-term illness. In this three-part series, hosts Margaret and Jeremy Collingwood introduce us to people who have discovered how retirement can be challenging and full of purpose.
Dove Review
Retirement means many things to many people. It may be a time to fulfill life-long dreams of travel, adventure and excitement. For some it may be a time of emptiness and questions as retirees seek to find meaning in the new and uncertain stage they are experiencing.
"Adventures in Retirement" is a peek into the lives of several individuals and couples who find themselves facing, embracing and often wrestling with a new chapter in their lives. Questions abound: • Does what I bring to life still matter? • What happens when illness threatens to steal the dreams I had? • What now, when I am facing life without my partner? • Can I still be used by God? • What if my dream doesn't look like how I hoped it would? Hosts Margaret and Jeremy Collingwood take viewers into the lives of a variety of folks who find that life can take on new meaning, be full of challenge, purpose and excitement regardless of age, circumstances and health, when the focus is on uncovering God's plan for their retirement and sunset years! We are happy to approve this delightful vignette of stories for viewers of all ages.
Info
Company:
Gateway Films / Vision Video