Cancer Stories
DVD Release:
August 11, 2009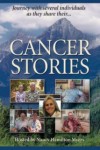 Synopsis
These intimate, honest, and emotionally moving programs cover the experiences of various individuals as they fight their own life-and-death battle against cancer.
Dove Review
In "Climbing to the Top," seven questions are asked to cancer survivors: type of cancer they have, treatments they underwent, emotions they experienced, reaction of family and friends, helpful hints, how it changed their life and what advice they have for someone diagnosed with the disease. She goes into a lot of detail with each survivor because each had a different cancer and chose different treatments.
Nancy Hamilton Myers is your host as she travels up a mountain to interview several survivors. The scenery is beautiful as she tells the stories of the hard journey each survivor had to endure. Absolutely heartbreaking interviews show remarkable courage and faith by the survivors. The toll on each family was different, each dealt with it differently, each family struggled differently. "Helpful Hints" are shared about educating yourself, asking for help, finding out all you can and talking to your doctor, to name a few. In "Trilogy," Nancy Hamilton Myers interviews the family of a child named Joey. His family started Wings of Eagles to help other families with children who suffered from cancer. The next story is about the organization "Swing for a Cure." Three sisters all contract and beat cancer as a team and now raise money for pre-cancer testing. The next story is about Nancy's mother in law, Kaye Myers Carson. She was born in 1925 and saw a lot of life. She had many setbacks and complications but prevailed, giving all the glory to God. These stories of courage and determination are awarded the Dove "Faith-Friendly" Seal for all ages.
Info
Company:
Gateway Films / Vision Video