A Light In The Darkness
DVD Release:
June 18, 1996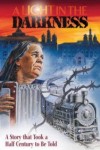 Synopsis
This heartwarming historical documentary explores the remarkable spirit and faith of the Volga German people. These German nationals emigrated to the Volga region of Russia during the time of Catherine the Great, in pursuit of a dream of being free and establishing their own government in their newly adopted homeland.
Dove Review
In the beautiful Volga Valley in Russia, many German people settled to escape the uprising of persecution, because of their faith, in Germany. They worked hard and never gave up the faith in God. Many of them were Catholic or Lutherans. The German Russians, as they were called, built beautiful churches, followed the law of the land and kept to themselves, but they gave what they could to the Russian government.
Then, when Hitler invaded Russia, Stalin rounded them up because of their German background and sent them North without warm clothes or much food. They were sent to the cold winter area in open trains, and most of the parents were sent to work camps, leaving their children to fend for themselves to survive. A now-older generation retells the story of how they endured the most terrible hardships over 30 years of their lives and how they returned to the Valley, where they once prospered. "A Light in the Darkness" is a heartbreaking story of the cruelty these faithful servants of God endured during World War II. We award this film the Faith Friendly Seal for ages 12+.
Content Description
Violence:
Man hitting others; people being starved to death; scenes of sick adults and children, starvation, and piles of dead bodies and human bones; parents taken from their children
Violence:
Man hitting others; people being starved to death; scenes of sick adults and children, starvation, and piles of dead bodies and human bones; parents taken from their children
Info
Company:
Gateway Films / Vision Video