Seeds, Dirt, Fruit
DVD Release:
June 17, 2008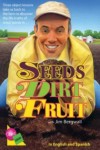 Synopsis
Jesus told simple stories, so everyone who heard them would understand the message. Host Jim Bergwall takes the seeds of these stories, digs into them, and illustrates with hands-on teaching how "good fruit doesn't just happen."
Dove Review
"Seeds, Dirt, Fruit" is a wonderful show. Follow Jim Bergwall as he learns about seeds, dirt and fruit and compares them to the stories that Jesus told. He teaches the lessons as an understandable discussion and shows how God's Word is the seed, we are the dirt, and the fruit is Jesus.
Just like a seed must have fertile dirt to grow and produce fruit, the knowledge of Jesus must be planted in us so we may hear the Word of Christ, let it take root in our hearts, and share the fruit of the word with future generations. This film provides an interesting concept that people can easily understand. This film is one that the entire family and church groups can use as a tool for Bible study, discussions, and devotional time. We are very proud to award this wonderful DVD the Dove "Faith Friendly" seal for all ages.
Info
Company:
Gateway Films / Vision Video