Taking the Hill
DVD Release:
June 18, 2004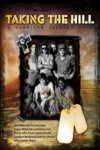 Synopsis
"Taking the Hill" is an intensely honest and hope-filled documentary for those who have experienced combat firsthand and for those who honor them.
Dove Review
This documentary features men who have experienced the intense action of war. It examines their thoughts about everything from boot camp to the confrontation of the enemy. These men of honor tell their life-changing stories.
"Taking the Hill" is an emotional film that shows the devastation of war, not only during, but also after the soldiers' return. When they returned from their service, they faced the loss of their friends, the toll that it took on their emotions, and the flashbacks to missions they endured. No matter whether they fought in Vietnam or the war of Iraq, these men have endured more than many others have endured in their lifetimes. . This informative documentary will help those who do not understand the after-effects of war. Our servicemen and women come home and are changed forever. This film inspires us to help our veterans when they come home, because God is real and he can help these men and women overcome the demons they face. "Taking the Hill" is a worthwhile documentary that family, service members and friends should watch to learn how to heal and help heal. The movie includes several scenes that discuss the power of faith and the love of God which everyone believed was the key to their survival and their ability to deal with the stress during and after their tours of duty. We award this film the Dove "Faith Based" seal with caution.
Content Description
Violence:
Many scenes of war: dead bodies, explosions, shootings, death of friends, loss of limbs; discussion of how men died in war and descriptions of the death of friends in war; killing others
Violence:
Many scenes of war: dead bodies, explosions, shootings, death of friends, loss of limbs; discussion of how men died in war and descriptions of the death of friends in war; killing others
Info
Company:
Gateway Films / Vision Video