Valor
DVD Release:
June 15, 1999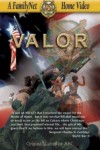 Synopsis
Valor looks at the heroic acts of several Medal of Honor recipients from World War II, the Korean Conflict, and the Vietnam War. These veterans tell their incredible stories of patriotism and courage, including their personal stories of faith in God in the midst of battle and beyond. All are men of faith…honor…valor.
Dove Review
The Medal of Honor is the highest award for valor against an enemy force, which a person can receive while serving in the Armed Forces of the United States of America. Soldiers who exhibit outstanding leadership, bravery and courage in the face of grave danger, with little regard for their own safety, can receive this award.
"Valor" looks at the stories of several brave men who served The United States of America and later were awarded the Congressional Medal of Honor. Their service spanned World War II, the Korean Conflict, and the Vietnam War. Each of these veterans were humble servants who had a strong faith in God and a stoic patriotism. Watching this film will inspire pride for members of the military who serve our country with a commitment to protect freedom, both at home and abroad. An equally prevalent theme is that of faith, which is woven into the life of each recipient. It is this faith that sustained them in the face of unimaginable challenges. These men tell stories of courage under fire, while acknowledging that God gave them strength to face their enemy and serve with great courage. Jeremiah Denton was not only a Medal of Honor recipient, but also later a prisoner of war and was subject to horrendous torture for many dark years in a Hanoi prison. He spoke these poignant words: "Freedom has a taste to those who fight and almost die, that the protected will never know." We are pleased to approve this film for viewers ages 12 and up.
Info
Company:
Gateway Films / Vision Video