Love Waits
DVD Release:
January 3, 2015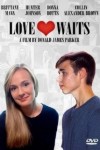 Synopsis
Fourteen-year-old Cheri Martin's world is turned upside down after the death of her mother, and the family moves from a small town in Nebraska to a larger city in the South. Her fragile psyche appears to be an easy target for Judy Green, the social queen at Cheri's new school, who spearheads a "stamp out virginity" campaign. Judy turns her attention and efforts toward converting Cheri, when she finds out that the newcomer is still sexually pure. How will a young lady in Cheri's predicament succeed in making godly decisions, especially since her father has withdrawn from God since the loss of his wife?
Dove Review
In this day and age, teenagers have to deal with a lot: Moving to a new school, peer pressure, and death of a family member or even divorce can shake kids to the core. "Love Waits" is a story that parents should watch and discuss with their teens, because of its relevant message for today's kids.
Cheri Martin lost her mother to cancer and recently moved to South Dakota with her father. Jeff, her father, is very over-protective but wants her to be the woman of the house. In doing so, he doesn't really understand what is going on in her life and doesn't take the time to listen. While she's dealing with the death of her mother and the move to a new city, she is also being bullied at school about her virginity. When Jeff asks Gloria, the neighbor next door, to watch Cheri while he is out of town on business, little does anyone one know the fantastic change in store for all of them. Gloria helps Cheri by taking her to church and getting her involved in a youth group that teaches about abstinence until marriage and God's love and forgiveness. This story offers great lessons for teenagers and older adults alike. We must teach our children about what God wants us to do about sexual peer pressure in our lives, how He is there for us in the midst of trials, and how bad choices have consequences. This movie also teaches that God always forgives. All you have to do is ask. Because of the godly message of this movie, we are proud to award it with the Dove Faith Friendly 12+ Seal.
Content Description
Violence:
Woman talks about husband and daughter's death; discussion regarding a girl being attacked and another about girl being sexually abused by a family member
Sex:
Comments about virginity, sexual activities; a teenage couple are bullied into trying to have sex but refrain from doing so; comments about sexual purity before marriage; comments regarding pornography; man and woman "making out" on couch; comment about "one-night stand"
Language:
Bullying those who are virgins; name calling, such as: "virgin queen," "morons," "religious freaks," "bimbo," "butt head," "idiots"
Violence:
Woman talks about husband and daughter's death; discussion regarding a girl being attacked and another about girl being sexually abused by a family member
Drugs:
Woman asks for a drink (alcohol); scene of teenage girl in hospital with IVS and nurse brings in a shot to be administered
Info
Company:
CMD Distribution