Growing Older Gracefully
DVD Release:
August 18, 1998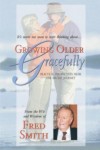 Synopsis
Start early enough to prepare for it, and growing older can be full of satisfaction and new joys. In this engaging video conversation, Fred Smith shows how to grow older gracefully with easy-to-grasp, practical steps and outlooks that can make a big difference for your life.
Dove Review
"Growing Older Gracefully" is a witty and wonderful documentary, featuring octogenarian but young-at-heart Fred Smith. Fred is young in his thinking, too. Fred says he was on Earth by the end of World War l, but when a man refers to Fred as an old man, he resents it, saying, "I'm getting older, but I'm not old." Fred is a popular speaker and experienced man in life lessons. He mentions the attitude of the mind being very important and gives the example of a man who was asked if he were poor. "Oh, no," replied the man, "Broke, yes. Poor, no."
In his humorous way, he says some people "defy" aging, and some people "deny" aging. He gives the example of how some older women dress like they're 18. He discusses four main points: 1. Deny it. 2. Defy it. 3. Endure it. 4. Manage it.
Fred's teaching includes examples of how to use mental toughness and talks about how some people belong to the "Use-ta" Club, in that, "I used to do this, and I used to do that." Fred also discusses memory and the blessing of not worrying, plus the importance of balancing friendship and solitude in life. His discussion on productive energy is enlightening.
Additionally, Fred mentions his Christian faith and his practice of prayer. We are pleased to award this DVD our Faith Friendly Seal for ages 12-plus. Even if you are not yet that old, we are all growing older every day, and Fred tells you how to do it gracefully with some laughter along the way.
Info
Company:
Gateway Films / Vision Video
Writer:
Ken Curtis Ken Curtis Ken Curtis
Producer:
Vision Video Vision Video
Reviewer:
Edwin L. Carpenter