A Cookie Cutter Christmas
DVD Release:
January 6, 2015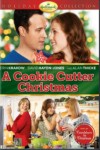 Synopsis
Elementary school teacher Christie is embracing the holiday spirit. She has entered the Christmas Bake Off and feels determined to win the grand prize of a trip for her class. But when her childhood rival, Penny, joins the contest, the heat is really on…especially when the handsome, widowed father of one of Christie's students becomes part of the festivities. Alan Thicke (TV's "How I Met Your Mother") stars in this charming story of romance, friendship and the true meaning of the season.
Dove Review
Penny and Christie were great friends until they had to sing together one Christmas when they where eight years old. From then on, their interaction became a competition, even after they became teachers in the same school. No matter what they did, whether their children sang in their class, they participated in the Christmas festival, or they decorated their houses for the holidays, they always seemed to be a contest of who was the best. So when a new man and his daughter move to town, Christie and Penny get even more competitive…but will their competition ruin their friendship?
"A Cookie Cutter Christmas" is a wonderful movie about how competition can ruin old relationships as well as new ones. It is a fun, wholesome film for the entire family to enjoy at Christmas. We are proud to award it the Dove Family Seal for all ages.
Info
Company:
Hallmark Home Entertainment