Take 2 for Faith (Manuscript)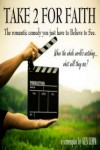 Synopsis
Following a devastating breakup with her fiancé, a popular celebrity escapes to her rural Georgia hometown, where she rediscovers feelings for her high school sweetheart, the local pastor. She must balance these unexpected emotions with the career she left in Hollywood and the disruption her presence brings to her small-town church.
Dove Review
To the author: "Take 2 for Faith" is an impressive manuscript. I sincerely believe it has potential. It is a heartwarming, inspiring story and would make a great film. I would like to see a channel like Hallmark make this manuscript into a movie. Faith Winters' inner conflict of longing for the old life she knew in Bethlehem, Georgia, despite having achieved great success in L.A., is very realistic. The romance between old flames, Pastor Ernie and Faith, works well, as the reader can sense that the old "spark" is still alive, despite the passing of years.
In the beginning of the story, Faith has had to deal with a cheating boyfriend, Cameron. Pastor Ernie has struggled to raise a child on his own after the passing of his wife, all while trying to keep the church doors open as attendance declines.
I like the humorous moments. When Pastor Ernie sees Faith's fancy dress, he says money like that could be used to patch the church plumbing. Amy replies, "Nothin' prettier than a patched sewer pipe, I always say." The manuscript also features some great faith-building lines, such as the comment that a ship might be safe in a harbor, but its purpose is not to stay there.
This inspiring story is a faith builder, without being hard or legalistic in any way. The characters are richly defined and likable, and the audience will root for Faith and Pastor Ernie to find love again. We are pleased to award this manuscript our Faith Friendly 12+ Seal, and I look forward to reviewing the finished film one day. If it stays true to this manuscript, the film would get the Dove Seal, too. Best wishes!
Content Description
Sex:
A man cheats on his girlfriend; passionate kissing; a couple share a kiss; a man is charming and kisses a woman on the cheek after he receives information from her.
Nudity:
Manuscript says a few women wear some clothing that is a bit revealing; some cleavage is suggested.
Info
Company:
Boxer or Briefs films
Reviewer:
Edwin L. Carpenter