Eternal Salvation
DVD Release:
March 8, 2016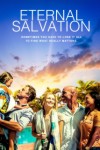 Synopsis
Jonathan Wright has everything: a prestigious job, incredibly beautiful wife, gorgeous seven-year-old daughter and countless friends. Having recently been appointed to Senior Vice President of business relations for a well established investment banking firm, Jonathan believes he is on the fast track to reaching the apex of his career. He and his team have been assigned a new client's billion-dollar account.
In the prime of his life, Jonathan suffers a life-threatening brain aneurysm that leaves him comatose. After regaining consciousness, he begins the grueling task of rebuilding his life. During this difficult time, he is determined to find the true meaning of life.
Jonathan realizes that everything he once thought was important in life is just vanity. This new revelation takes a toll on his professional life, and his entire world begins to crumble around him. His friends ostracize him. The only person who doesn't question Jonathan's quest for truth is his colleague, Paul Jenkins, a devoted Christian.
Paul takes Jonathan under his wing to mentor him spiritually. During his spiritual journey, Jonathan must confront the sins of his past before discovering the truth that waits in his future.
Dove Review
"Eternal Salvation" is a powerful movie and should be on a must-see list. It features excellent acting, dramatic music, and a compelling story line. Jonathan Wright is a bright business executive and has just been promoted to Senior Vice President of business relations. The story opens on his idyllic life, which includes a beautiful wife, Amy, and young daughter, Megan. At the height of his victorious promotion, Jonathan discovers that he still feels a bit empty. Then, a near-tragic event occurs when a brain aneurysm puts him on his back at the golf course and then in the hospital for several months, as he recovers from a coma. He regains his health through rehab and perseverance and agrees to visit his friend Paul's Bible study group. His life changes dramatically as a result of his conversion to Christianity.
Once a drinker and occasional racist, Jonathan now shares a close relationship with Paul, a black man, and Paul helps him navigate some difficult circumstances in his life. Jonathan's assistant, Scott, who Jonathan mentored, is now out for Jonathan's job and is attempting to make him look bad in front of Jonathan's boss, Mr. Haskell. When the company announces a merger, with looming lay-offs, Jonathan must trust in God's plan.
We are more than pleased to award this excellent and inspiring film our Faith Friendly Seal for ages 12-plus. This realistic and redemptive story is a nicely executed movie and has earned five Doves, our best rating.
Content Description
Violence:
A TV announcement says that a man died in a car crash, with the car plunging over a cliff.
Violence:
A TV announcement says that a man died in a car crash, with the car plunging over a cliff.
Drugs:
A drinking scene at the beginning of the film, involving a man who turns his life around; a toast.
Nudity:
Men in shorts; a man is shirtless, as medics apply paddles to his chest in an attempt to save his life.
Info
Company:
Eternal Salvation Productions
Reviewer:
Edwin L. Carpenter