Alison's Choice
DVD Release:
March 3, 2016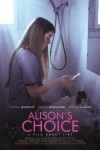 Synopsis
Alison, a teen, is facing pregnancy. With nowhere to turn, she finds herself in a "clinic" about to end her baby's life. Suddenly a man appears. He's holding a mop, so she believes he's the janitor. But in conversation with him, she quickly realizes that this man is no mere janitor, but Jesus manifest. And he's come to save the life of her baby.
Dove Review
Alison is looking for love in all the wrong places. She falls into temptation when her boyfriend talks her into sex before marriage. Then, the unexpected happens: She becomes pregnant, and now her boyfriend is pressuring her to end the pregnancy. She finds herself alone at a "clinic" with a decision to make. As she sits there, the one person who has always been there for her confronts her about the decision she is about to make.
God openly weeps when He finds out what she's about to do. He lets her see her unborn daughter, the life that is growing inside her, hoping she will change her mind. This dramatic story tells of the choices God allows all of us to make and their consequences. He gives us free will in these circumstances, but He is available to encourage us to make the right decisions. He loves us, just as He loves the unborn babies in the world. "Alison's Choice" is a drama about protecting the life of an unborn child, no matter the circumstances. We are pleased to award this moving film our Faith Friendly Seal for ages 12+.
Info
Company:
Marchiano Ministries