A Christmas Eve Miracle
DVD Release:
December 1, 2015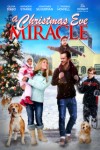 Synopsis
Sharon and Dustin Holden (Olivia d'Abo and Anthony Starke) were high school sweethearts. They went to the same college and graduated together and got everything they ever dreamed of: great kids, great jobs, and the loyal golden retriever, "Jerry" (Jon Voight). But Sharon's career consumes her world. In an effort to rekindle the joyous family life they once shared, Dustin insists on taking a Christmas vacation to their old stomping grounds, Farthering Pines.
When they arrive, they're greeted by Jack Carter (C. Thomas Howell), Robert Jones (Jonathan Silverman) and their lively families. Despite the festivities, Sharon just can't seem to pull herself away from her work. Frustrated by juggling both her family and work life, Sharon wonders aloud how life would be if she and Dustin did not have children. The next day, she wakes up to find that her wish has come true! Her life has been turned upside down: Dustin is back to his old job-obsessed self, and her children are nowhere to be found. At first, she enjoys this new version of her life, but upon seeing how happy the Jones and Carter families are, she recognizes this isn't the life she wants. Can Sharon find
a way to get her family back? Will she realize the true meaning of Christmas? Will the Holden family reunite before the clock strikes midnight?
Dove Review
Christmas should be a joyous family time, but like so many in this world, the Holden family is busy with business and school and worried about the future. Once they're on their vacation at Farthering Pines, they hope to spend more quality time together. But when Stuart, their son, gets hurt, Sharon questions her life as a good mother and working woman.
"A Christmas Eve Miracle" is a wonderful story that teaches that family comes first. We should recognize the celebration of love and family, not just during the Christmas season, but every day. This is a Christmas movie that the entire family will enjoy. It shows that, when families and friends are reunited, we all become better people, and sometimes we don't realize what we have until we lose it. We are proud to award "A Christmas Eve Miracle" the Dove "Family-Approved" Seal for all ages.
Info
Company:
SP Worldwide Distrib, LLC