Twinkle Toes Lights Up New York
DVD Release:
April 5, 2016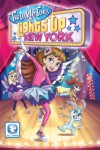 Synopsis
On the last day of school, 14-year-old Grace (aka, "Twinkle Toes") has been dreaming of the ultimate summer vacation with her best friends, Sporty Shorty and Jordan. But when Twinkle Toes' dad gets a once-in-a-lifetime opportunity to direct a Broadway musical, Twinkle Toes is swept from her small-pond suburban life and thrown in the hustle and bustle of New York City for the summer. As Twinkle Toes learns the ins and outs of the Big Apple and Broadway, she impresses the show's choreographer and is invited to be a part of the show's cast alongside the teenage starlet, Olivia Conners. But when Twinkle Toes gets a taste of the Broadway limelight, the chance for stardom overwhelms her, and the show is ruined! To make things right, Twinkle Toes must use all of her creativity, smarts, and dancing skills to help her new friends and save the show!
Dove Review
Twinkle Toes has her summer all planned out, but after the last day of school, her father tells her that they are going to New York. He has a chance to direct a show on Broadway. This news does not make her happy, because it means she has to leave her friends and her pet rabbit Walter behind. So, she is not looking for fun and adventure on this trip.
When they arrive, she refuses to believe any fun or good will come out of being in New York until she is offered a part in the show. Making new friends and seeing the sights, she turns her heart to the possibility of becoming a star in her own creative way. Then, when she tries to shine, she finds out that stardom is disastrous for everyone, even her father. What can she do to turn the mistake around and make a positive impact on everyone? Along with the help of her friends, a surprise arrival and the cast of the show, Twinkle Toes comes up with a plan…but will it help? "Twinkle Toes" is a coming-of-age story of friendship, forgiveness and teamwork. With its charm, this movie will delight the family with loads of fun. We are proud to award "Twinkle Toes Lights up New York" our Dove Seal for all ages.