The Twelve Strays of Christmas (Manuscript)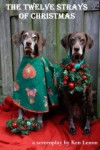 Synopsis
When a young, lonely businesswoman is sent to a small, economy-stricken New England town in the days just before Christmas to evict a squatter and his rescued dogs, she must overcome the town's admiration for the homeless man to discover the one thing she had stopped searching for.
Dove Review
To the author: This is a good family story, and it would make a great Hallmark movie! You have created rich characters with Angela, Dylan, Frank, Grace, Terri, and all the rest. The story line is touching, especially that of a man who refuses to leave his home until he finds the dogs a home and the story that takes place between Angela and Dylan. The misunderstanding is written realistically as well.
Its themes of longing for a good life, even in a small town, of doing the right thing and standing against the odds, and the romance and difficult choices the characters are faced with are all well-written. Dylan never had a choice to leave for a city but begins to realize that the small town in which he lives is right for him. We hope this manuscript is made into a TV movie. Although not intended for the very young, we are pleased to award "The Twelve Strays of Christmas" our Dove "Family-Approved" Seal for all ages. This is a story that would play well any time, not just during the holidays.
Content Description
Drugs:
Drinks poured in bar; drinking in a couple of scenes, including wine; a photograph of a couple sipping champagne; candles in old wine bottles; a character accuses another character of being drunk, but she denies it.
Info
Reviewer:
Edwin L. Carpenter